Brie and Rosemary Tart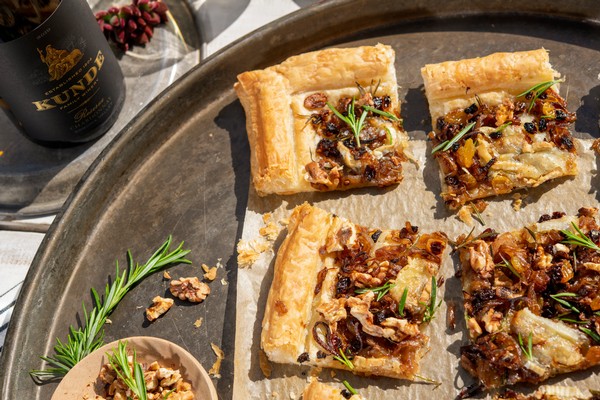 Ingredients:
1 piece of puff pastry - defrost according to directions on box (roughly 8 x10)
2-3 T olive oil
3 large shallots - sliced (about 2 cups)
1/4 cup currants
1 T apple cider vinegar
1 T maple syrup
1 wedge of brie cheese (6 ounces)- sliced into thin 1 inch pieces
1/2 cup toasted walnuts (hazelnuts or pecans) - chopped
1/3 cup fresh rosemary - stemmed and roughly chopped
Maldon salt for garnish

Preparation:
Preheat oven to 425 degrees.
In a medium skillet over medium heat, add oil and cook shallots with a pinch of salt until golden brown - 8-10 minutes. Add currants, vinegar, and maple syrup, cook 2 more minutes. Remove from heat and place in a bowl to cool.
Place the puff pastry on a parchment lined baking sheet. Using a small sharp paring knife, score the puff pastry 1 inch in from the edge, all the way around to create a border. Layer the shallot mixture, cheese, nuts and rosemary evenly inside of the border.
Bake in oven for 20 -25 minutes until the pastry is golden brown. Remove from oven and let sit for 5 minutes. Sprinkle salt on top as your garnish. Using a knife or pizza cutter, slice into desired shapes. Serve immediately.
Serve with:
Kunde Family Winery Chardonnay - Wildwood Vineyard