Tom Yum Soup with Shrimp
I discovered this incredible soup at a small Thai restaurant. This version is full throttled flavor and can be served as a side or main course.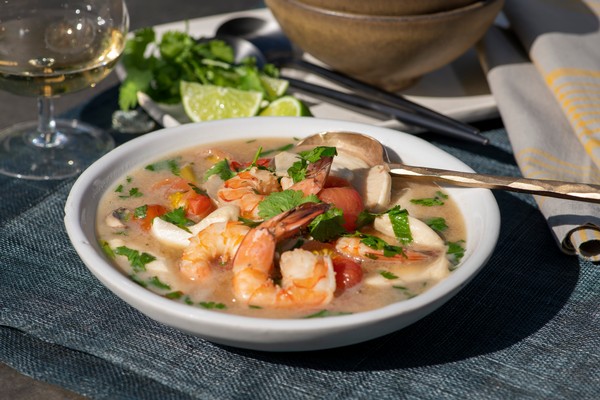 Ingredients:
2 T coconut oil
1 large shallot - thinly sliced
2 lemon grass stalks - outer layers removed and soft inner layers minced
3 garlic cloves - chopped
2 inch piece of ginger - peeled and grated on micro plane
4-6 ounces - mushrooms sliced (shiitake, oyster, cremini or other)
4 cup vegetable stock or 3 cups chicken stock + 1 cup water
1-2 T garlic chili sauce (sambal oelek)
2 T tomato paste
1 T brown sugar
1 T lime zest
3 T soy sauce
4 T fish sauce
6-8 ounces thin rice noodles
1 can full fat coconut milk
1/2 pound small or medium shrimp - cleaned, deveined
1 cup cherry tomatoes - halved
2-3 T lime juice
garnish - thinly sliced scallions, chopped cilantro and lime wedges
Preparation:
In a dutch oven, heat coconut oil and saute' shallot, lemon grass, garlic, and ginger for a few minutes. Add mushrooms and cook for 3-5 minutes. Add stock, chili sauce, tomato paste, sugar, lime zest, soy sauce and fish sauce. Simmer for 15-20 minutes.
Meanwhile boil water and add rice noodles. Remove from heat and let sit 10 minutes or so until soft. Drain and rinse. Place in a bowl and toss with 1 T of toasted sesame oil. Set aside.
Add the coconut milk to the Dutch oven and cook for 5 minutes. Remove the soup from the heat. Add shrimp, tomatoes and lime juice. Put lid on pot and let sit for 5 minutes or so until shrimp are pink and cooked through. Taste and adjust seasoning if needed.
Divide noodles among bowls, ladle soup into each and garnish with scallions, cilantro and a lime wedge. Serves 4.
You can substitute tofu, shredded pork or chicken for the shrimp in this recipe.
Serve with:
Kunde Family Winery Sauvignon Blanc - Block 4SB20