Roasted Red Pepper and Hamburger Pizza with smoked mozzarella and fresh arugula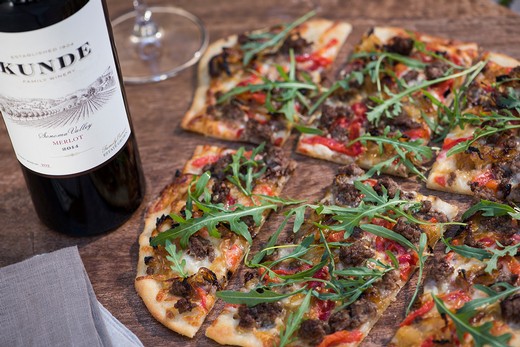 Recipe Date:
December 7, 2017
Measurements:
Imperial (US)
Roasted red peppers, ground beef with smoked mozzarella make for a layered flavor. Fresh arugula adds the finishing touch.
Ingredients
1 onion - cut in half and sliced thinly
olive oil
1 tsp fresh thyme
1/2 lb ground beef
2-3 cloves garlic
1/2 cup roasted red pepper, thinly sliced
1 pizza dough, homemade or any store bought crust. Rolled out to 12-14 inches.
1 1/2 cups smoked mozzarella, shredded
1 1/2 cups fresh arugula, garnish after cooking
Directions
Heat grill on high heat or oven to 500 degrees. Pre-heat pizza stone for 30 minutes before cooking pizza.
1. Cook onion in 1-2 tablespoons of olive oil over medium low heat for 20 minutes or until caramelized. Add salt and pepper. Add fresh thyme at end.
2. Cook ground beef in 1 tablespoon olive oil over medium heat for 3 minutes then add 1 crushed garlic clove and salt and pepper. Continue cooking until browned. Drain and set aside in bowl.
3. Char pepper over open flame and put in plastic bag for 5 minutes to loosen skin, then peel and slice thinly.
4. Flour or corn meal your pan or pizza peal to ensure your crust doesn't stick. Brush about 1 tablespoon of olive oil all over crust. Add 1 crushed garlic clove. Now add shredded cheese evenly, ground beef, onions and peppers. Bake on hot pizza stone until cheese is melted and sides are crispy brown 4-8 minutes.
5. Serve pizza with fresh arugula and a drizzle of olive oil.